A Legacy of Love
Feb 03, 2022
My grandfather, John G. Burns left a legacy of love when he passed away in January. The way that he lived his life, left behind a legacy of love for his family and friends. His grandchildren called him Pawpaw, but others affectionately called him John G.
John was born on February 3, 1926 and was one of four brothers with a twin brother named Robert. John was born on a large family farm in Nashville, Tennessee. The big farmhouse that he grew up in was filled with lots of family; aunts, uncles, and grandparents who all lived under the same roof to care for one another and to work on the farm.
John G. grew up in a family with amazing role models who taught him the importance of attending Mass, being active in parish life and how to live your faith among family and friends. My grandfather had prayer giants in his life who taught him to pray and trust in God. Those same prayer giants kindled in him a devotion to the Blessed Mother and a love of the Rosary. His favorite prayer, The Hail Mary, was often recited in times of trials, but also out of love and devotion.
My grandfather had many loves in his life. One of them was Father Ryan High School where he graduated in 1944 and was the captain of the football team. Catholic education was extremely important to him and he worked hard to provide a Catholic education for all 7 of his children as they attended St. Edward and then went on to high school at St. Bernard or Father Ryan.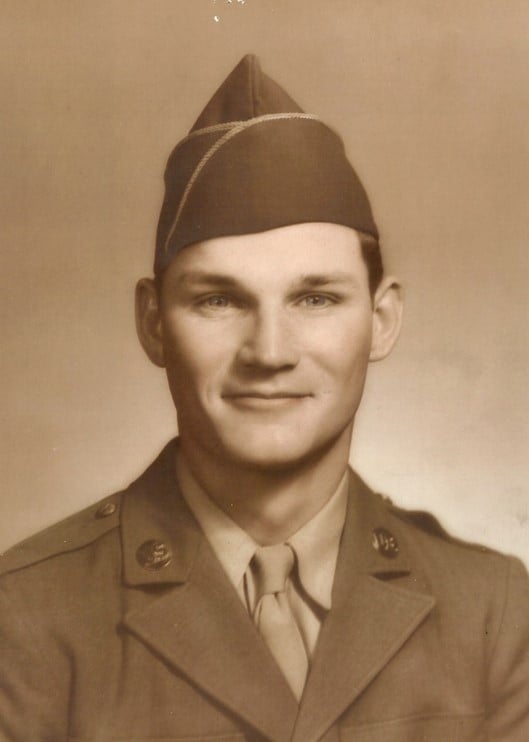 After graduating from Father Ryan, John G. entered the army and fought in WWII. He and his twin brother reported for duty in August of 1944. On January 30, 1945 they shipped out from New York to start their journey overseas in Europe. The two brothers ended up in Germany in the 83rd Infantry Division, which had been decimated during the battle of the Bulge. John G. and his brothers were placed on the bazooka team and were with the Allied Forces as they made their final push into Germany. John G. was sent to Austria and was separated from his brother. He promised God that if he could be reunited with his twin he would never miss Mass. John G. was reunited with Robert when Germany surrendered in May of 1945. He upheld his promise and for 95 years he never missed Mass. John G. was a proud veteran and loved his country. He proudly wore his WWII hat and loved for people to stop and talk so he could share war stories. Ok, if we're honest…he also liked the perks of being a WWII veteran. He had many meals comped by restaurants by random strangers who would buy his meal.
After returning from war, John G. Burns married Marie Gentry. Their first child, my mom, was born in 1949 and was the first of seven children. John and Marie settled into the the big farmhouse to raise their children with the help of aunts, uncles and grandparents.
In the 60's, John G. and his brother moved the family farm about thirty minutes south of Nashville. John G. worked tirelessly on the farm raising dairy cows while growing some of the best tomatoes and corn you will ever eat. John G.'s happy place was behind the wheel of his big tractor riding across the farm. He shared with me more than once that he had lots of conversations with God as he worked in the fields.
The farm was the site of many gatherings over the years. The Sunday afternoon cookouts were a time for family and friends to come together for vegetables freshly picked from the fields along with plenty of laughter and fun. Growing up, my sisters and I could hardly wait to arrive at the farm so we could run and play with our cousins. There was always an adventure to be had.
Each gathering included a circle of family and friends holding hands and praying together before sharing a meal. At the end of the blessing, John G. always added a prayer for deceased members of the family. It went like this…
May the souls of the faithfully departed through the Mercy of God rest in peace, Amen.
He passed this prayer down to his children who in turn have taught it to the next generation.
In 1986, my grandmother, Marie, died suddenly leaving John a young 60 year old widow. John was blessed to remarry several years later and welcome a bonus family into his life. His new wife had 4 children with many grandchildren and great grandchildren similar to his own family. His cup was running over with people who loved and adored him! My grandfather had a huge heart, he never met a stranger and always welcomed people with open arms. To say he touched many lives is an understatement.
About 12 years ago, my mom and her siblings began attending Mass on Wednesdays with my grandfather. Over the years the Wednesday Mass became a family tradition with grandchildren and great grandchildren attending when possible. The family always sat with my grandfather on the left side of the church in front of the Blessed Mother statue. My grandfather's greatest loves would come together on Wednesdays, his love of God and his love of family. I would sit at St. Patrick on Wednesdays and reflect on the family members who went before me who probably sat in the same pews facing the same altar offering up prayers for their family. I often think of how they may have gazed at the statue of the Blessed Mother and ask for her intercession for some trial or hardship they were facing in their life. I think about the countless baptisms, weddings and funerals that the Burns family took part in at St. Patrick. If only the walls in that church could talk….right?
The most important thing I will tell you about my grandfather is that he made everyone feel special.
We laugh among the cousins, that he would always tell the grandchild that he was with at the time that "they were his favorite." As you would walk away from him, you would often hear him tell the next grandchild they were his favorite too.
Over the past few months, my grandfather's health began to decline. It was difficult for him to get around and he needed assistance to go from place to place. Even though he was struggling physically, he still kept up with children and grandchildren. He talked with his children on a regular basis and they always kept him up to date with what was going on in the family. Even with so many children, grandchildren and great grandchildren to keep up with, he always knew something about your life and offered words of encouragement and praise.
My Uncle Billy served as his chauffeur and tour guide. Uncle Billy made sure that John G. didn't sit at home too long. Together they made many drives up and down the backroads of middle Tennessee getting lost and searching for somewhere or someone to visit. Some days he would simply put John G. on the lawnmower in the backyard where he was happy to ride for hours in the warm sunshine. He loved being outside.
Several weeks ago, my grandfather developed pneumonia and wasn't able to recover. His 95 year old body didn't have the strength to fight it off. He was rushed to the hospital on a Friday evening. A call went out to the family and about 10 of us were waiting for the ambulance to arrive so we could tell him how much we loved him before the paramedics took him into the ER. His health continued to decline for the next few days. The family was allowed to visit so we had the opportunity to hold his hand and tell him how much we loved him, even though he wasn't responsive.
We gathered at the hospital for our final farewells. Even though he lived a long blessed life, it was difficult to say goodbye to a man who impacted so many lives. We stood around his hospital bed together and prayed the Divine Mercy Chaplet, the Rosary and played church hymns for him. We made sure he received last rites and was wearing his scapular. As different family members came in and out of his room, the word on my heart was love. The love of a wife who never left his side, the love of family who shared stories and tears together. The love of the Catholic faith because we were comforted in knowing that all of his suffering would be short lived as he prepared for Heaven. The love and kindness of the doctors and nurses as the time grew short. The love of countless family and friends who were praying from afar.
The day before my grandfather passed, I sat and held his hand. His arm was bruised from all of the IVs and treatments he had while in the hospital. I was thinking about how broken and weary his body was after 95 long years. I happened to glance up and see a cross above his hospital door with the Risen Christ. Just like his promise to God that he wouldn't miss Mass if he was reunited with his twin brother, we have God's promise of eternal life. My grandfather's body may have been bruised and weary here on earth, but as Christians we believe that he will be healed and restored in Heaven.
What a great reminder for us all that whatever we endure or

suffer here on earth, we have the promise of true joy and healing in Heaven.
So, here is what I want you to remember about my grandfather's life. It is a four letter word..LOVE. This past Sunday, the day after his funeral Mass and the day before his burial on Monday, the reading at Mass was from 1 Corinthians.
Brothers and sisters:
Love is patient, love is kind.
It is not jealous, it is not pompous,
it is not inflated, it is not rude,
it does not seek its own interests,
it is not quick-tempered, it does not brood over injury,
it does not rejoice over wrongdoing but rejoices with the truth.
It bears all things, believes all things,
hopes all things, endures all things.
Love never fails…..
So faith, hope, love remain, these three;
but the greatest of these is love.
LOVE
The L stands for Lean on God. It doesn't matter what has happened or what you've done, God is always willing to help you carry your burdens. Call on him, place your troubles, suffering, heartache and pain in his hands. Allow him to guide and direct you. My grandfather would say, Give it to God and say a Hail Mary.
The O stands for open your heart. Open your heart to everyone without judgment or criticism. Love people right where they are. My grandfather never met a stranger, he was known and loved by so many because he opened his heart. His life was full of love. Love that he showered upon his wife Kaye, his 11 children, 22 grandchildren and countless great grandchildren. John G. was also a father figure for countless others over the years. He welcomed them with love and acceptance and in return he lived a life surrounded by love.
The V stands for Veterans. My grandfather was a proud WWII vet and loved his country. He was so happy each year when the family would gather for the annual Veteran's Day parade in his little town of Nolensville. The family would decorate a float in red, white and blue with him at the center waving as we drove through the town. We live in a world that is full of division, but we should rally around our veterans with love and gratitude. For many of us, we live a comfortable life unaware of what our armed forces have faced or what they are currently facing. In my grandfather's honor please ask God to bless the men and women who have served our country or the ones who are currently separated from their family to protect our family.
The E stands for the Eucharist. The Eucharist is the source and summit of our Catholic faith. It is where we go to be fed and nourished by God. My grandfather knew the importance that the Holy Mass made in his life. At the funeral, my uncle shared that on Sunday afternoons the children would often get a phone call wanting to know when and where they attended Mass that day. Mass was an important part of his life because he knew the strength and joy that comes from a life with God. Here is the great news, even if you've wandered from your faith, God is waiting for you. It is easy to let your faith or attending Mass take a backseat from the rest of your life. It is easy to make excuses for why you don't attend….you don't like the priest, you don't like the music, you have too much to do, you don't agree with how the Catholic church handles certain issues….and so on. Attending Mass and receiving the Eucharist is the source and summit of the Catholic faith. It is where God will strengthen you for whatever you are facing in your life. It is where you will find relief from the burdens you are carrying. It is where you will find encouragement to keep moving forward. It is where you will find peace that only God can provide. It is where you will learn the deep joy that comes knowing that God is always at your side. It does not matter what you've done, how far you have wandered…God is always welcoming you back.
So remember love. L.O.V.E.
L…Lean on God
O…Open your heart to love others
V…Veterans need our prayers and gratitude
E…find Jesus in the Eucharist. God is waiting for you to return to him so he can shower his great love on you.
I want to close with 2 Timothy 4:7, which was a reading from my grandfather's funeral Mass.
I have fought the good fight, I have finished the race,
I have kept the faith.
My grandfather can proudly claim these words. God will give us the strength to do the same. John G. left a legacy of faith and love. Let's follow in his footsteps.